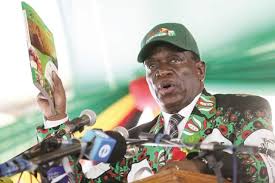 Terrence Mawawa|A hungry man is an angry man, so goes the popular cliche.
A Zanu PF supporter was severely assaulted by angry villagers in Shurugwi for repeatedly chanting the ED pfee maxim.
Frank Nyahwa met a group of villagers as he was returning home after attending a Zanu PF meeting last week. Nyahwa then began to chant the ED pfee maxim much to the chagrin of the villagers.
Ozwell Mhene one of the villagers then grabbed Nyahwa by the neck and assaulted him.
As Nyahwa attempted to run away the villagers gave chase and further beat him up and demanded to know why he was chanting the ED pfee slogan at a time the economy was in bad shape.