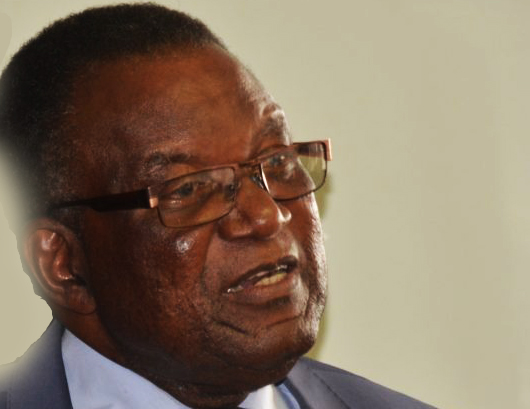 …the fuel is there but there is a lot of panic buying which has already been fuelled by social media… 
The Minister of Energy and Power Development, Joram Gumbo, has once again accused social media websites, Twitter, Facebook, and WhatsApp for causing fuel shortages.
Gumbo told the state media at the Zimbabwe International Exhibition Centre in Bulawayo, that Zimbabwe has enough fuel.
He began by saying, "we have enough fuel stocks at Msasa and Mabvuku in Harare."
He continued:"the RBZ are doing their best to release forex to oil companies for them to access that fuel. The fuel that I'm saying is at Msasa is enough for the country but it is bonded. It's brought in by international companies into the country so that our own companies and those that trade within Zimbabwe can access it after paying for it using foreign currency.
That is where the snag is," he said.
Gumbo said the country only needs 2,5 million litres of diesel and 1, 5 million litres of petrol per day .
"As I speak now we have enough fuel stocks to last us well into the coming months and also there is pumping still going on between Harare and Beira so definitely there is no need to panic as far as the product is concerned. People must be patient enough to allow the periodic releases of forex which are being done by the RBZ so that we can cover this gap that has been created," he said.
Gumbo said panic buying and hoarding by some fuel companies was creating the crisis being experienced countrywide.
"From my own point of view, the fuel is there but there is a lot of panic buying which has already been fuelled by social media and also by the hoarding that is taking place by some of our companies.
"Some of the oil companies are holding onto the fuel for speculative purposes in the hope that the prices will go up and they can then sell and make a profit which is very unfair but the fuel stocks in the country are adequate", he said.
"What has also happened is that some oil companies are now restricting fuel to their customers whom they would have pre-sold coupons particularly for companies that sell coupons. That is also causing discord in the provision of fuel in the country".
Dr Gumbo appealed to fuel companies to release fuel to the market.
"They cause a lot of panic. When there is that kind of restriction, people tend to believe that there are no stocks of fuel in the country. Yes, we could have been having problems of accessing it through forex as required but Government is doing the best it can to make sure it provides the forex that is required for fuel," he said.