Correspondent|The Nelson Chamisa-led MDC Alliance has recalled Chegutu's elected Mayor Henry Muchatibaya from Council and also expelled the same from the party, as more and more elected officials continue to lose positions in a scale unprecedented for the opposition movement.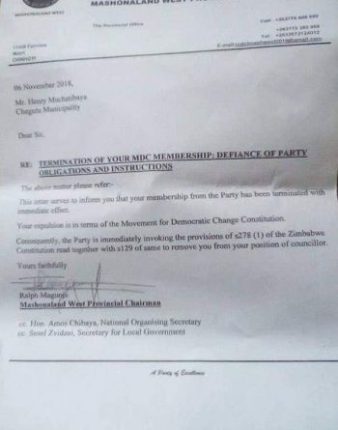 "Your membership from the party has been terminated with immediate effect. Your expulsion is in terms of the Movement for Democratic Change Constitution," the expulsion letter says, without quoting which section of the party constitution the Mayor violated.
The firing from council and expulsion from the party of Muchatibaya follows hard on the heels of similar scenario in Victoria Falls, Bulawayo as well as Masvingo town councils where the MDC leadership has fired and/or recalled elected Mayors or deputy Mayors.
In the latest Chegutu incident, the MDC Mashonaland West Province has written to Councillor Muchatibaya recalling and expelling the Chegutu Mayor from both Party and Council, "for defying a Party directive that he steps down as Mayor."
Nelson Chamisa had denied that his actions border on dictatorship, claiming he was trying to "protect the party from infiltration by ZanuPF."
"Many people are saying Chamisa is a dictator; he is this and that, what have I done. I'm not a dictator, I am not confused either and I am such a sweet guy who deserves all the good things," Chamisa has said.
"Some people are saying I am tribal but I figure that only weak people hide behind tribe, race colour, class and all that."
Chamisa recently axed mayors in Victoria Falls, Chitungwiza, Masvingo and Bulawayo barely weeks after they assumed power, a move some say show the MDC leader's dictatorial tendencies.