Terrence Mawawa|MDC Alliance Youth Assembly Secretary General Lovemore Chinoputsa has dismissed claims that the vanguard perpetrated acts of terror on August 1.
In his statement below Chinoputsa has demystified misconceptions about the Vanguard:" There is no Vanguard in the MDC
The MDC categorically states that there is no longer an outfit called the Vanguard. As a matter of fact the Vanguard was a peaceful and disciplined team of MDC youths- which has since been disbanded on the orders of the national council, the party's Supreme decision-making body in between Congresses.
As the MDC Youth Assembly we note with serious concern the attempt by the police and the military to arrogate responsibility of the August 1 shootings to a non-existent peaceful outfit which was disbanded
soon after the unfortunate incidents in Buhera at the burial of our late iconic Leader Dr Morgan Tsvangirai.
The Vanguard was a team of youths that went about peaceful drills at party events but was misinterpreted
by political detractors as a violent outfit.
On the orders of the party leadership, the Vanguard was then disbanded. The Vanguard was not a terror gang.
In any case, the Vanguard was not an armed outfit.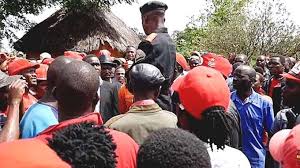 Guns are not sold over the counter in this country.