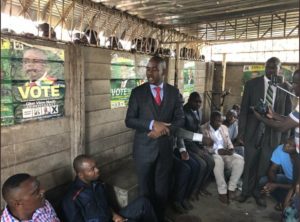 By Own Correspondent| Opposition leader Nelson Chamisa has consoled the family of a Zanu Pf supporter who died from cholera in Glen View, Harare.
Cholera has claimed 25 lives since the disease outbreak on September 6 2018 and the Health ministry reported that it had attended to over 3 600 suspected cholera cases to date.
Chamisa visited cholera victims in Glen View and Budiriro where the MDC Alliance leader interacted with health personnel manning health centres where those seeking treatment are being treated.
Said Chamisa:
My visit to Glen view left me so harassed and challenged.The scale of the cholera crisis is severe.A collective national approach is necessary to contain and stop any loss of life. pic.twitter.com/Sl9kPDV4wy

— Nelson Chamisa (@nelsonchamisa) September 12, 2018