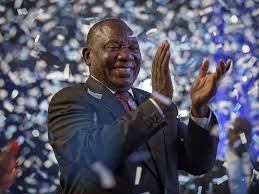 Own Correspondent|More than 32,000 people are expected to make their way to Loftus Stadium in Pretoria, South Africa, this morning to witness Cyril Ramaphosa being sworn in as president of the 6th democratic administration.
South Africans – who want to be part of the historic moment – will be bussed in from other parts of Gauteng as well as Limpopo, Mpumalanga, the North West and Free State.
Security is tight with police and metro police officers deployed in the streets while no one will be able to gain access to the venue without accreditation.
The gates are expected to open to the public where thousands of South Africans will stream into the stadium to take their seats hoping to capture the historic moment which will unfold before them.
A mother says she is bringing her 8 year old daughter to the stadium today to experience the electric mood.
"I feel excited and I'm looking for a selfie."
A graduate – who has been unemployed for two years – says she's also going to make her way into the stadium hoping with Ramaphosa at the helm more work opportunities will be created.
"It's been 25 years of freedom and I'm looking forward to celebrate it."
For those not able to attend the ceremony, you will be able to go to the different public viewing sites across the country where proceedings will be broadcast live.
While the thousands of South Africans will be following the event, former president Jacob Zuma has indicated that he won't have time to attend Ramaphosa's inauguration because he is busy fighting to stay out of jail.
Zuma addressed his supporters outside the Pietermaritzburg High Court yesterday, after his lawyers argued in favour of a permanent stay of prosecution.
The former president says it will be tricky for him to attend today's inauguration.
"My time to go is tricky, there is no time. I am fighting to stay out of jail."
Zuma says there are people who want him in jail, while a new president is being inaugurated.
"There will be people, heads of state, the president will be inaugurated but as that happens, people want me to be in jail."
It's unclear if the former president officially confirmed his attendance at the inauguration today.